CUC Students Taste Hispanic Culture
A line snaked from from Krentz Center all the way through the Triangle on Sept. 15,  as CUC students waited to be served a taste of Latino culture during the Hispanic Heritage Month kickoff event.
The annual event, hosted by the Latino Student Union (LSU), seems to draw larger crowds each year. This year's celebration offered free elotes, chicharrónes, and aguas frescas, along with watermelon, mango, and pineapple seasoned with Tajin.
"It brought me back to Guerrero, Mexico, where I'm from," said senior Brandy Arroyo, who attends LSU meetings frequently and loves this specific event. "It also reminded me of the summer times up on the North side of Chicago where there are many Hispanic hustlers, selling Mexican goods. They outdid themselves this year."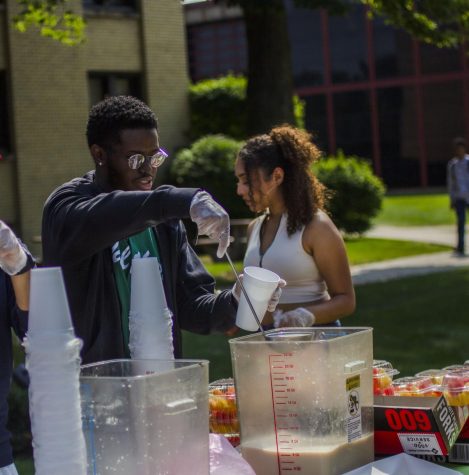 National Hispanic Heritage Month recognizes Latin American culture throughout the United States. It begins on Sept. 15 to mark the anniversary of the start of the Mexican war of independence from Spain in 1810.
"We get a larger turnout and more participants every year," said senior Celeste Santiago, LSU vice president. LSU organizes a variety of food from Mexico and other Latin American countries, along with music performances and dancing.
The kickoff event impressed not only the Hispanic students at CUC, but also non-Hispanic students. "The food was phenomenal, 10 out of 10," said senior Joecel Orbon. "I'm always looking forward to this event every year."
Many CUC students seem to agree with Orbon that this event reflects the Latino culture beautifully.
"It's nostalgic and a great way to allow people who are unfamiliar with our culture to try some of our favorite foods," said junior Julian Perez.
LSU welcomes people of all backgrounds to help run and plan events, including African American and Middle Eastern students.
"I wanted to help out their community as much as I can," said sophomore Summer Barakat, who is Palestinian. "And I thought one great way I could, was to join LSU."
Barakat has been a member of LSU since her freshman year, and now holds the position of treasurer in the organization. She helped with the Hispanic Heritage Month by working at the food tables in the Triangle.
"We ordered 200 ears of corn, 250 fruit cups, 200 bags of flour, chicharrón, and around 10 gallons of horchata, said senior America Sanchez, the LSU president. "We ran out within an hour of opening."
The music and dancing, however, continued after the food was long gone.