Radio Station WCGR 'The Underground' Makes a Campus Revival
Concordia University Chicago's own WCGR is live and broadcasting student shows again on campus for all to hear after a two-year hiatus due to the COVID-19 pandemic.
Streaming online from 5 p.m. to 9 p.m. daily, seven student shows this spring semester are spread across the week. Student shows feature wide-ranging topics based on students' interests.
Four of this semester's student shows are in a podcast format, while the remaining three broadcast their own music playlists.
Sophomore Gus Strenge hosts his radio show every Thursday at 5 p.m., showcasing all forms of jazz. "I like the fact that I found this because I can just relax and let listeners into the music I love," said Strenge.
Students at CUC can be a part of WCGR News and Radio for college credit hours or as an extracurricular club on campus.
"I just found out about this not too long ago at the campus fair," said Strenge. "I think I'd want to come back for another year." Strenge is studying secondary English education is participates in WCGR as an extracurricular outside of his regular classwork.
Junior Andrew Gallup hosts his show titled "Monday Madness" at 5 p.m. on Mondays. Gallup's show focuses on weekly topics and events happening in major league sports like the NBA, MLB, or the NFL.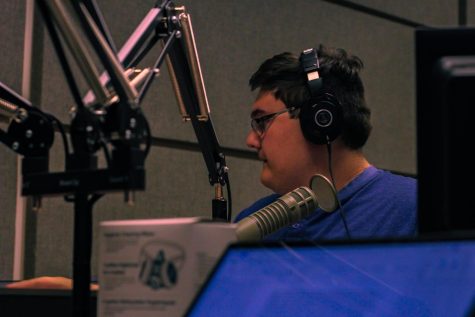 "Even though this is for credit, I'm really passionate about what I talk about and can see myself doing this as a career," said Gallup, a communications major who also helps with WCGR news and participates behind the scenes in numerous campus media events.
Nicole Garza, the administrative assistant for the College of Theology, Arts, and Humanities, has been coordinating TV and radio on campus for the past four years.
Since the pandemic, Garza has been getting students back in the booth and behind the cameras in the campus studio in the Krentz Center, room 105. "The past two semesters have been pretty good," said Garza. "We've had an great turnout of students for both, and it's really rewarding to see ones that are just doing it in their free time."
Garza is also looking for students who want to join the WCGR executive board. "Bringing back students for the exec. board is my next goal," said Garza. "I'm currently behind a lot in the decision making for what WCGR does now, where there used to be more student presence two years ago."
The WCGR executive board used to plan and discuss numerous activities that members of WCGR would participate in. Students in WCGR would plan news shoots and radio show schedules, and they would also meet outside of campus at city-wide film festivals, tours and field trips.
CUC supported these media studios for a little more than four decades. The television studio was established first, and radio broadcasts were introduced to the campus in 1991. Before the early 2010s, WCGR was broadcast across campus within specifically designated locations.
Now, WCGR The Underground is found on CUC's Cougar Pride web page.