Coach Bielec Preps STUNT Program for Inaugural Season Next Year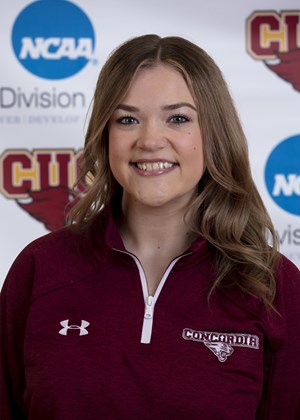 You've heard of cheerleading. You've heard of competitive dance. But have you ever heard of STUNT? 
Concordia University Chicago (CUC) announced on November 19 the launch of STUNT as the nineteenth varsity sport offered by the university. One month later, the university hired Kelly Bielec as the first head STUNT coach, as well as the director of the spirit program at CUC. With their inaugural season next year, Coach Bielec has been busy recruiting athletes and establishing the foundation of the program.
STUNT is a sport derived from traditional cheerleading that takes out the crowd-leading aspect and splits the performance up into a four-quarter game. The first quarter is for partner stunts, the second quarter is pyramids and tosses, the third quarter is jumps and tumbling, and the final quarter is team routines, which combines quarters one through three into a small 1 minute 30 second routine. 
All competing STUNT teams learn the same material in the fall and start competing in the spring. Games are in a head-to-head format. Whichever team executes the routines the best, receives the most points.
The CUC STUNT program was an idea brought to athletic administration and university officials by current cheer and dance coach Dirvelys Allen. "She was super passionate about bringing it here and with the collaboration of the athletic department and school, she made it happen," said Bielec.
Coach Bielec brings years of STUNT experience with her to CUC. She won four national championships while competing at Davenport University in Grand Rapids, Michigan. In addition, she won three National Cheerleader Association Championships. Before coming to CUC, Bielec was the head cheerleading coach at Minooka High School for three years. "It has been a dream of mine ever since I competed in STUNT myself to bring it back with me to Illinois," said Bielec. "I am confident it will grow quickly with all of the incredible talent at the high school level."
From a high school with an enrollment of roughly 2,700 students to a Division III university with an estimated undergraduate enrollment of 1,500 students, Coach Bielec felt right at home the second she arrived at CUC. "The environment is very welcoming thanks to all of the incredible staff," said Bielec. "I love the tight-knit, small community feel when I am here. The athletic department is very excited for STUNT to start, which pushes me and makes me even more excited."
The CUC STUNT team at CUC is the first program of its kind in Illinois. Currently there are forty-nine collegiate STUNT teams with eight teams in CUC's division. A few of CUC's competitors will include Alma College, Concordia University Ann Arbor, and Olivet College. "I'm excited to spark interest in schools near us to help the amazing sport keep growing" said Bielec.
Coach Bielec has spent the last few months recruiting athletes and building relationships with other teams in the STUNT community. "I love meeting with the recruits over zoom or on campus," said Bielec. "I think my love for the sport truly shines through when I explain my plans for the season and future of this program. I like to have the recruits meet some of the athletic department to show how involved and excited they are for this sport to start next fall."
During their first year of competition, Coach Bielec wants to focus on creating a family-like team culture. "Having this bond is key to any program's success and continuous progression" said Bielec. "I want to start building the traditions that will carry on in the many years to come.
For more information about the CUC STUNT program, visit cucougars.com.