Rising Price of Eggs Forces Changes to Weekend Brunch
Concordia University Chicago students returning from winter break were welcomed by a new style of made-to-order breakfast at the cafeteria, but only on the weekends.
The main culprit for the change? Eggs.
In January, the national average price for a dozen eggs was $4.82, up from $1.93 in January 2022, according to the U.S. Bureau of Labor Statistics, far outpacing the rising costs of other food staples. To cope with a spike in breakfast costs, Sodexo, which is CUC's main food service provider, introduced a quick-serve style brunch on Saturdays and Sundays, where students tell an employee what kind of breakfast sandwich they want.
This is a departure from the buffet-style brunch on weekdays, where students had unlimited access to pans of scrambled eggs, sausages, potato products, and other common breakfast foods.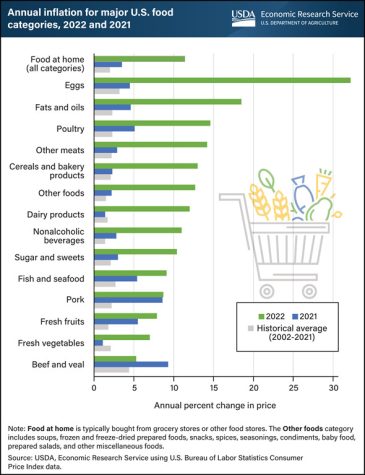 "My staff noticed on Saturday and Sunday we were seeing a lot of food being dumped into the garbage — especially eggs," says Frank Budig, general manager of dining services at CUC. "For that reason, we made some adjustments in the way we serve our brunch meal."
Now when students walk up to the "Sizzle" counter, where the buffet used to reside, they can order their custom breakfast sandwich by choosing a type of bread (such as English muffin or bagel), choice of meat, and cheese. All sandwiches are then made with an egg patty and can be served with an optional hash brown.
While the change in weekend brunch might be minuscule in the grand scheme of CUC, cafeteria goers have taken notice and are not particular thrilled with the new style.
"I personally do not agree with the change in the café," says Tyler Dorsch, a sophomore and member of the baseball team. "The reason they changed makes complete sense and seems practical, but as a result, the lines have gotten bigger than they were before."

Justin Headley, a junior, felt like the breakfast sandwiches make the meal go by too quickly. "The buffet style brunch lends itself to having a longer meal, which allowed me to foster better relationships with my peers," he says.
Budig pointed out that the number of students at brunch on Saturday and Sunday is usually more than 200. On weekdays, however, 40 or fewer students typically show up for breakfast; not enough people, and waste, to justify changing breakfast during the week.
Nationally, egg consumption increased by nearly 17% between 2012 and 2021, while beef and venison intake is declining, according to the U.S. Department of Agriculture.  
Compounded with the rising demand of eggs is the current bird flu epidemic, which has affected nearly 58 million chickens, according to the USDA.
The bird, or "avian," flu causes respiratory and digestive issues followed quickly by death in birds, according to the University of Minnesota. Because of transmission risk and a high mortality rate, infected chickens must be killed immediately, causing egg supplies to drop and prices to skyrocket. 
The inflation of egg prices has caused both individual consumers and businesses to rethink how they budget for eggs, leading to scenarios like Sodexo's, who redesigned CUC's weekend brunch in order to cut down on wasted food.
Not all students are opposed to the change.
"I like how people are able to choose what they would like on their sandwiches now, like the type of bread, cheese, and choices of meat," says Aidan Vizi, a fifth-year student. "It gives a wider variety of choices." Vizi prefers this variety in sandwiches over the buffet style, where students were limited to what was put out.
Fortunately for students who want a greater variety of choices and nearly unlimited quantities of pricey eggs, the breakfast buffet remains available on weekdays.