Students Call For Change After Campus Town Hall on Diversity
Concordia University Chicago held a packed town hall meeting on April 12 in the Chapel of Our Lord to facilitate conversation about the recent controversy regarding discrimination on campus.
CUC canceled all classes during the 11:30 a.m. meeting. The Student Government Association (SGA) hosted the town hall, which began with university president Russell Dawn, D.Phil., addressing a selection of student-submitted questions presented by SGA vice president Adrian Hernandez. 
Several hundred people attended the town hall, filling the pews and additional seating set up in the wings, with others standing in the back.
When Hernandez asked Dawn if CUC realized that there has been an issue regarding race, Dawn said, "We do, as I look around, clearly, but I will suggest that I knew a lot less about it before the last several days."
Preceding the meeting, concerns grew over the administration's decision to ban from campus English professor Paul Stapleton, Ph.D. "He understood what minority students have been through on campus," said freshman Kaleb Feliciano. "Nobody else wanted to fight for us."
Student leaders from the Latino Student Union, Black Student Union, and the SGA met with the university administration on Sunday, April 10 to discuss the idea of holding an on-campus discussion.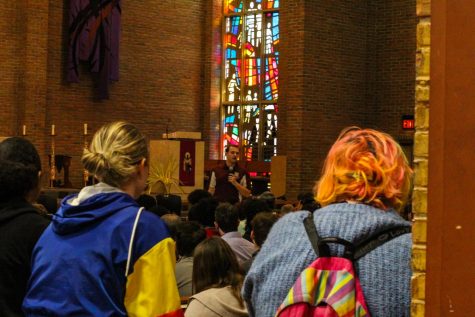 The following Monday morning, River Forest police arrested Stapleton in front of several dozen students when he arrived on campus to teach his classes. On Monday afternoon, dean of students Kathy Gebhardt and provost Erik Ankerberg, Ph.D., sent an email inviting CUC students, faculty, and staff to the town hall the next day. 
"The April 12 discussion was developed in direct response to the events that took place on campus during the prior week and represents another example of the University's dedication to transparency and active listening," Dawn said in an email. 
Dawn commented on Stapleton's arrest without specifically describing what actions led to the professor's ban from campus. "We are ethically and legally bound to [Stapleton] to keep his employment information confidential," said Dawn. He added that the university imposes bans for "an individual that poses an unreasonable risk to one or more members of the community."
Hernandez asked Dawn about the reporting system and the online portal through which students and faculty submit complaints. "Voicing these concerns and being shut down is unacceptable," said Dawn. "The portal is your opportunity to voice what needs to be voiced and to be sure the administration hears it."
Discrimination, Title IX, and general incident reporting forms are located on the Concordia Connect, RAVE Guardian app, CUC Gold File, and the Department of Public Safety webpage. Reports filed are assigned to CUC staff members, who are then obligated to collect information, conduct further investigation if necessary, and communicate with any involved parties, said Ankerberg. 
In days following the town hall, Dawn sent campus-wide emails that listed what the administration is currently doing to meet the goals promised at the town hall meeting. In Dawn's first email he linked information about Title IX from the university and reiterated a zero tolerance policy for racism and harassment. 
Dawn emailed students and faculty on April 22 about the administration's plan for faculty diversity training. "The University will partner with the Lutheran Church—Missouri Synod and its Northern Illinois District to develop a workshop that provides a Biblical understanding of civility in a diverse community," Dawn wrote.
"I look forward to the collaborations tied to the action steps the president described in his email to all students, faculty and staff," said Ankerberg in an email. "I invite all members of the University community to continually bring their questions and concerns to the Provost's office."
Dawn also mentioned the start of "exploring the creation and funding of a full-time position dedicated to leading the University's faithful and effective service to its diverse community."
This position was brought up in the town hall by America Sanchez, the president of the Latino Student Union, who demanded "the hiring of a director of equity and inclusion on campus."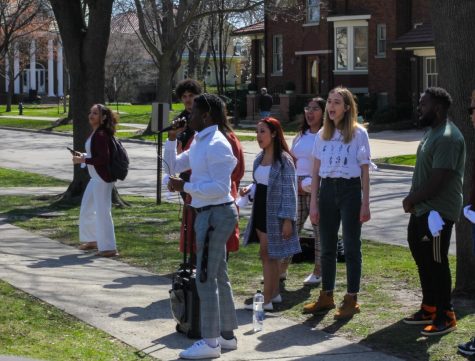 Students who attended the event expressed a mixture of disappointment about the event and hope for the future.
"Open dialogue on important issues is bound to evoke passion," Dawn said in an email. "I thought the students handled the meeting commendably and I respect those students who elected to speak."
Feliciano felt that the town hall meeting was not structured to allow the administration to communicate directly with the student body. He stood up during the SGA's questions to directly address Dawn, asking for more openness from the university president. 
Feliciano also spoke about how he found it difficult to follow up on the three incidents of discrimination that he previously reported through the portal. "You said to get help, you have to go through these forms, and yet we had to keep coming back before anything was solved," said Feliciano during the town hall.
Afterward, Feliciano expressed frustration with the CUC town hall. "We brought light to the situation and took the right steps, but not enough was said or put in place," Feliciano said.
Freshman Summer Barakat said that she has seen many minority students leave before their second semester at CUC. "If people don't feel safe, and they don't see diversity, it's like people aren't exactly going to come here," said Barakat. 
Senior Chris Woods said that he believes CUC should hire more black professors. "I know for a fact if I haven't seen any in my full four years here, then I doubt the alumni before me have," Woods said.
Bilal Ahmed, a medical student who graduated from CUC in 2021, felt that the university during his time here was not welcoming to him or his religious beliefs. "Concordia has never been accommodating to me as a student and as a Muslim student as well," said Ahmed. "I specifically joined student government at Concordia to help with these issues." 
The primary issue he had on campus was asking the administration to get behind having a prayer room for him and other Muslim students. Ahmed said he spoke with officials at Benedictine University and Elmhurst University about their non-denominational prayer rooms, and presented to the CUC administration a paper he wrote on providing a similar space. "Praying five times a day is one of the most important things as a Muslim," Ahmed said. "Honestly, there are no excuses for the university to not accommodate every need of a student."  
During the town hall meeting, students again brought up the request for a space for all religions to worship or pray. "Of course, we do welcome students from any religious faith or no religious faith at all," Dawn said during the town hall. "But that does not mean we are required to provide them a space with which to practice their religion on this Christian campus."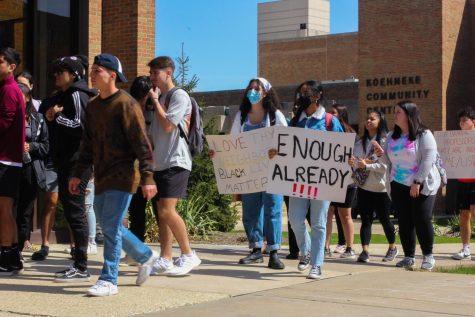 SGA's public relations officer, senior Austin Wendling, said that the town hall meeting was the first step in an ongoing conversation. "We feel the goal of the town hall was met," said Wendling. "It started the discussion and the administration seems to be on board to hear out the changes. It's the beginning of a road to success." 
Wendling felt that many student groups were pushing to become more coordinated in their involvement at CUC. Currently, out of the 41 different student groups on campus, only the "Big Six" meet on occasion throughout the school year.
"From my understanding, the Big Six used to be a lot more cohesive, and we definitely want it to go back to that," said Wendling.
Gebhardt and Ankerberg recently met with student leadership to discuss how to continue the dialogue on campus. "University administrators and student leaders will partner to host regular group gatherings to discuss issues and activities related to student needs and campus culture, beginning when we return to campus in the fall," said Dawn. "We will continue to share updates and progress reports with all members of the University community."