Muslim Student Athletes Balance Workouts with Fasting During Ramadan
Muslims all around the world are celebrating "Eid al-Fitr" today, which marks the end of the holy month of Ramadan. For Muslim athletes at Concordia University Chicago, that means the conclusion of a particularly challenging 30 days balancing Ramadan's fasting requirements with their intense sport workouts. 
The month of Ramadan is one of the five pillars of Islam, and it requires a strict fast every day from sun-up until sun-down. In addition to withdrawing oneself from both food and water, adherents are also encouraged to continually remember God in their daily life. 
Bilal Ahmed, CUC '21, played football, lacrosse, and ran track as an undergrad. He described how the fasting could be particularly taxing during a full day of classes, but he found value in the "One of the biggest points that I take away from Ramadan is that if I can resist my temptations to eat and drink throughout the day, I should easily be able to prevent my temptations to do wrong," said Ahmed.
"I really love Ramadan because I get to discipline myself mentally and challenge myself while also growing spiritually," said Ahmed, who is currently a medical student at the Lake Erie College of Osteopathic Medicine in Erie, Pa. 
Ahmed listed some physiological benefits of fasting, even though it might seem unhealthy. "There's some scientifically proven benefits, including obviously having a lot of fat burn," said Ahmed. "It's going to increase your HGH [natural human growth hormone] levels which is going to increase your muscle mass. It's beneficial for the heart and there's a lot more positive effects."
After fasting from food and water since sunrise, which was around 6:45 a.m. to 7:15 a.m. in April, then sitting through class all day, the athletes usually have either team practice or a competition. "The hardest thing, I think, about fasting is not about eating," Ahmed said. "It's more so about drinking water. Because by the end of practice, and even during practice, I just feel so dehydrated. And I just need water. It makes me feel lightheaded."
The first meal that breaks the fast after sunset is called iftar, and is traditionally held at home with family. But junior Amir Cavic, a defender on the lacrosse team, has work on campus after practice at 7:00 p.m., while iftar is usually held around 7:30 p.m.
"I get close with my family during Ramadan because it's just like we're always together," said Cavic. "Now, I'll get to go home some nights and go eat with them." Other times, Cavic said, he takes his meal on campus, and his roommate will grab food so Cavic can eat as soon as possible.
In the morning, Cavic would wake up between 3 a.m. and to 4 a.m. to eat suhoor, which is the meal just before sun rise. The Cougar Den supplied Cavic with boxes of vegetables for suhoor, and the athletic trainers gave him electrolyte packets that he mixed with a gallon of water or Gatorade. "When I take the electrolyte packets for game days, it feels a lot better than the days I don't take them," Cavic said.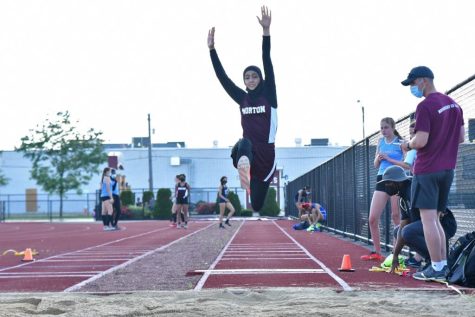 Noor Sammour, a recruited track athlete who will start her freshman year at CUC in the fall, was fasting on her visit day to CUC. "I fast for Allah and it doesn't really bother me that I am the only one here fasting," Sammour said. "I can do anything anyone else is doing right now it doesn't hinder me."
Sammour found herself more energized during the month of Ramadan and expressed feeling a greater spiritual connection. "In Ramadan I feel blessed along with all the Muslims around the world," Sammour said. "Fasting and knowing that every other Muslim in the world is fasting with me is this beautiful sense of community and worship."