"Land of Wonder" Exhibit Presents an Immersive Experience
A colorful new exhibition in the Ferguson Art Gallery brings an underwater botanical scene to mid-winter Concordia University Chicago.
The show by CUC art professor Nikkole Huss, titled Land of Wonder, focuses thematically on the exploration and preservation of nature.
Land of Wonder depicts natural environments through paintings, photography, fiber, and installations. Some works appear to evolve throughout the day as the angles of sunlight change through the large gallery windows. "This installation was made for the Ferguson Art Gallery," said Huss.
For her room-sized mixed-media installation titled "Beneath the Surface," Huss created a vibrant seascape an iridescent color palette meant to serve as an uplifting motif. "Amid pandemic nerves, there is comfort in the appreciation of a land of wonder, imagination and the possibility of recovery," said Huss.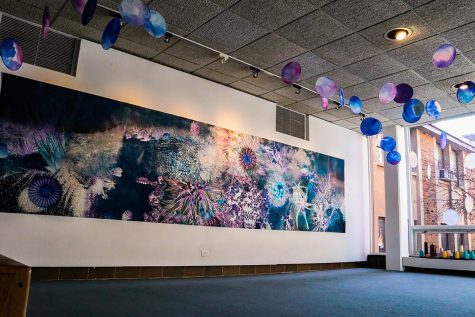 The pieces seen in the gallery have been in the works since early 2021. Huss was inspired to create a project that would bring the gallery corridors together as one immersive space.
The botanical images in these works were inspired by photography from a trip to Cabo in July 2021, which was then manipulated to combine aspects of an underwater floral landscape.
During the summer, Huss created 30 ink-on-stretched-silk circles depicting underwater imagery. Then over the this past winter break, she produced 30 more silk pieces accompanied by 12 mirrored circles.
Huss has previously had artwork featured in many galleries, including the Gallery UNO Projektraum in Berlin, Germany. Huss is looking to also have a portion of "Beneath The Surface" displayed in Berlin this coming summer.
Students can see the Ferguson Art Gallery in Kretzman Hall before entering the Chapel of Our Lord. "It's a unique display full of mirrors, photos and paintings that all come together to create a harmonious exhibit," said senior Daniel Valdez, who walks through the exhibit on his way to his art classes in Kretzmann Hall.
Betty-Ann Mocek, professor of art and curator of the Ferguson Art Gallery, chooses five exhibitions each year to host. "As gallery director my goal is to expose CUC and neighboring communities to a diverse array of art in this gallery," said Mocek. "Bringing professional artists to campus enhances our student's understanding and involvement in the visual arts in so many ways."
The Land of Wonder will hold a reception in the gallery Sunday, Feb. 20 from 2 p.m. to 4 p.m. Huss will speak about her works and answer questions from the Concordia community. Many of the pieces are on sale for between $100 and $2,500. The show will remain on display until Feb. 21.