Ferguson Art Gallery Showcases "Photography and Fiber Reveal God's Beauty"
The second Ferguson Art Gallery showing of the Fall semester celebrates women of faith in honor of alumna Kim Loontjer, BS ' 06, who passed away in 2019.
The show, "Photography and Fiber Reveal God's Beauty," features new artwork from two other Concordia University of Chicago alumni, Anastaysia Camp BA '20 and Sara Nordling BA '85. Nordling provided her textile fabric creations, while Camp displayed wildlife photography and an original painting. The collection will remain on display until Dec. 18.
The show's theme came from a concern that "there seemed to be a glaring absence of women of faith displayed," said Gary Loontjer, Kim Loontjer's father, who spoke during the show's opening reception on Nov. 5. The Loontjer family commissioned the collection for CUC's Women of Faith project to fully encompass the vision their daughter had for the campus.
CUC art professor Nikkole Huss is the curator for the campus collection. Huss, along with BettyAnn Mocek, director of the Ferguson Art Gallery, chose which artists to feature in the collections. "The campus collection is a teaching tool," said Huss. "It is essential to integrate faith and learning with art."
Nordling, a graduate of deaconess program, provided pieces of abstract artwork made using cloth fiber, expressing color and texture. One piece that was created specifically for this collection portrays Biblical women and Loontjer's Confirmation verse, John 8:12, "When Jesus spoke again to the people, he said, 'I am the light of the world. Whoever follows me will never walk in darkness, but will have the light of life.'".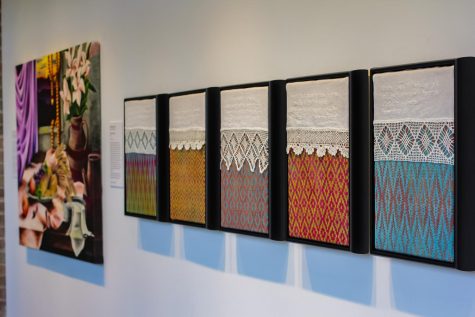 "Much as a symphony in music portrays concepts images and words have trouble expressing, so my threads work together to convey meaning," said Nordling.
For the other half of the show, Camp provided wildlife photography in the form of metal prints. Her permanent contribution to the CUC collection was a painting symbolizing women who are connected to the genealogy of Jesus Christ. "Painting isn't my strongest medium, but when my professors reached out and encouraged me to, I had to take the opportunity," said Camp.
During the opening reception, both artists took the opportunity to connect with current CUC students about their work.
"Through my photography I've always intended to show animals that are endangered or invasive," Camp told the students. "All of it is God's creation and I've always taken inspiration from that."
Nordling also discussed her sources of inspiration, along with her approach to faith-based art. "What you do and who you are come out in what make in your work, whether you were intentional or not, whether you meant it or not," Nordling said.