Coach Arango and Men's Soccer Prepared for Quick Turnaround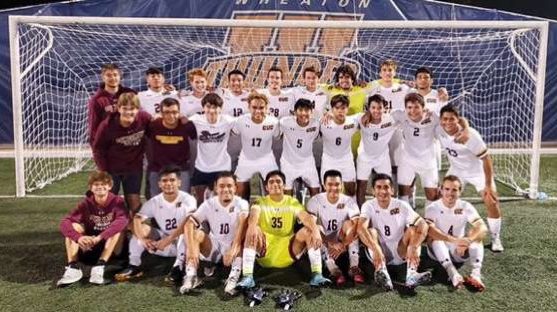 After playing a condensed, 10-game season in spring 2021, Coach Michael Arango and the men's soccer team returned from a shorter-than-usual off-season to play a full schedule this fall.
Men's soccer played their final spring match on April 22 against Dominican University, and returned to the field on September 1 to begin their 17-game fall season.
"For soccer players, it's not a problem at all. They are used to lots of games in a short amount of time," said Arango when asked how the team has responded to the shortened off-season. "For us, having three months off may have been too long."
The soccer team started this season on September 1 with a 2-1 victory over Elmhurst College. Senior midfielder Joel Diaz and junior forward Samuel Epperly scored in the match. The Cougars dropped the next two matches against Carleton College and Grinnell College, but soon rebounded with a huge win over eighth-ranked Wheaton College.
"Anytime you get a huge win for a program it fills the coffers of energy and excitement," said Arango. "It fuels the belief that you can go out and accomplish anything if you guys work together as a team and understand that even though Wheaton was favored, the guys were able to pull together something special and get the results."
Men's soccer kicked off conference play on September 15th with a 2-2 tie against Benedictine University. Goals came from sophomore forward Grayden McClellan and an own goal from the Eagles.
The Cougars have lofty goals for the remaining conference matches. "My expectations are to go into the conference very strong, coming out on top, going into the playoffs, and winning it all," said senior defender Damian Rojas.
Senior forward Dominick Christiansen had similar goals. "When it's all said and done we want to end up on top," he said.
With around 40 players on the roster this fall, squad depth will be an asset for the Cougars. "What that does for us is it creates competition for us at every position," Arango said. "Every training session, every game, guys are always competing, and they're all competing for the same goal at the same time."
Depth and competition will not only help the Cougars on the field, but off the field as well. "Are they taking care of business in the classroom? Are they putting in their good work in the community? All that stuff ties into their starting roles and positions," Arango added.
Leadership on the team also comes from veteran players, such as junior captain and goalkeeper Nicholas Pasut. "My responsibilities as captain are to be a leader and for people to follow my example," said Pasut. "I want people to feel like they have someone to look up to, and not always going to the coach, but coming to me as well."
The Cougars will continue conference play when they take on Wisconsin Lutheran College at home at Concordia Stadium on Saturday, October 16 at 11 a.m.