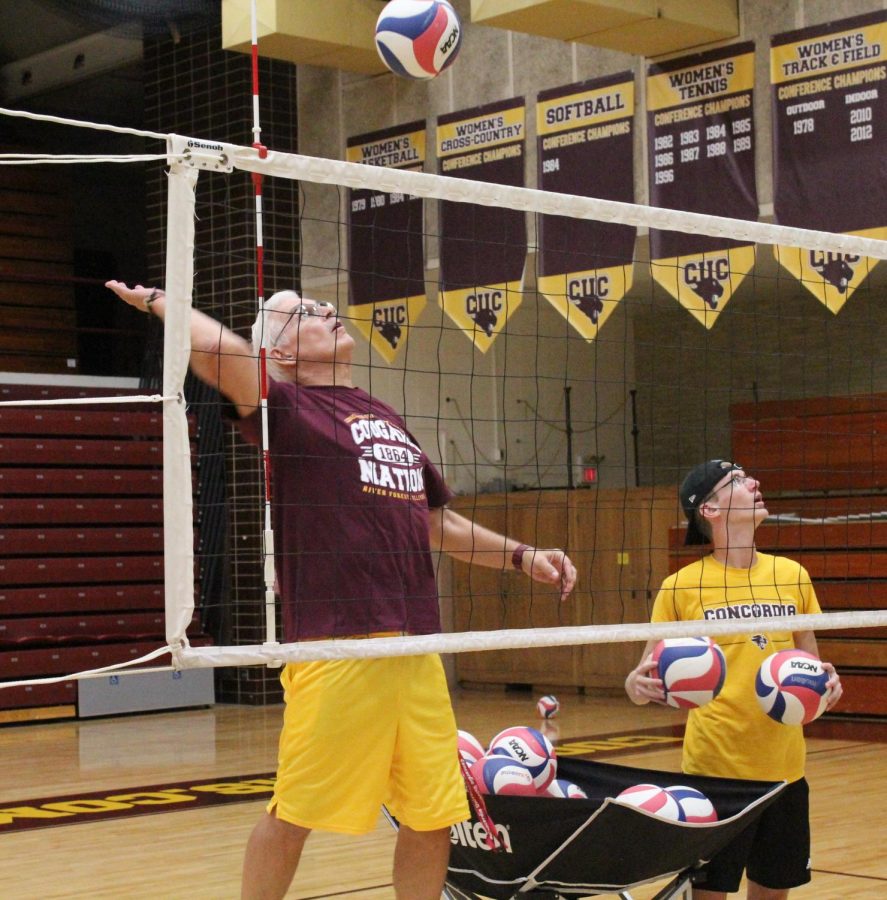 Carlos Villasenor
In August, the Concordia University Chicago men's volleyball team signed on new head coach Ron Katarzynski, more widely known as "Coach K." 
Katarzynski came to CUC because it offered the best direction and fit for his personal criteria.
"I like the focus on family and faith here and it just feels like a good fit for where I'm at in life right now," Katarzynski said, adding that CUC "has a great campus feel to it."
All told, Katarzynski brings 30 years' worth of coaching experience to the CUC men's volleyball program.
During his college and young adult years, Katarzynski played in a few intramural and park district volleyball teams. He then began coaching at various high schools and volleyball clubs, including St. Pius, St. John's, Side Out VBC, Avalanche VBC, and West Chicago High School. From there, he began to work his way up through higher levels of coaching.
Katarzynski eventually became a head coach at Sports Performance Volleyball Club, a private program based in Aurora, Ill. for high school-aged players. There, he coached the number 25-ranked team in the nation in 2013 and the top-ranked team in 2014. In 2016, he coached his first college team at Aurora University. 
Katarzynski hopes to build a team that is centered around more than just great volleyball play and winning streaks. "I value a family atmosphere, a good culture, and having each other's backs," Katarzynski said. "Those are the foundations of everything I do in coaching. Obviously skills and techniques are important, but without that strong culture, you won't be successful."
Katarzynski praised his players for forming strong personal bonds and creating team unity before he arrived at CUC. "I think building team chemistry is one of the hardest things to coach, but I feel this team already has that," said Katarzynski. 
Freshman outside and right-side hitter Josh Rapley described how Katarzynski often speaks one-on-one with players to develop personal relationships. "He keeps up with us," Rapley said. "We have meetings with him, individually, every week because that's just how close we are with our coach."
One of the recent team-building events involved bringing the players to his lake house in Reddick, Ill. for a day. Staying together all in one place created a family atmosphere that strengthened the team's connection, Rapley said.
The players believe their coach will lead the volleyball team in the right direction. "I definitely see ourselves being very successful this season," Rapley said. "We've got a lot of great guys coming back and strong freshmen coming in."
The volleyball season officially starts at the beginning of the spring semester in January 2022. If there are no interruptions due to COVID-19, the men's volleyball team should be able to play a full season in front of a full crowd for the first time since 2019.